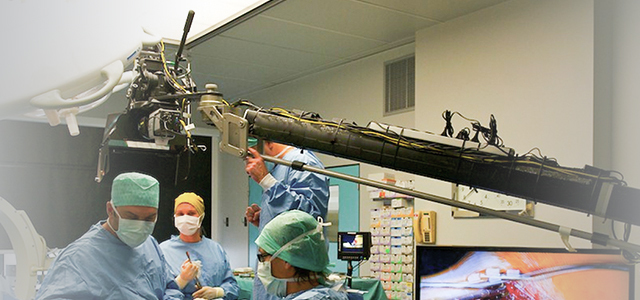 Jiujiang first people's Hospital launched "vertical and horizontal broadcasting" operation exhibition week
On April 12, "vertical and horizontal broadcasting" inter provincial hospital operation exchange and Exhibition week was launched in Jiujiang first people's hospital.The first municipal people's Hospital, the Affiliated Hospital of Guangdong Medical University, Tangshan workers' hospital, Zhongda Hospital Affiliated to Southeast University and Tangshan people's Hospital jointly launched a wonderful live online operation.
"Vertical and horizontal broadcasting" is one of the most important academic platforms of J & J aixikang, which aims to help and accelerate the promotion of hierarchical diagnosis and treatment mode and high-quality medical resources, and promote the development of high-quality medical resources and cutting-edge medical technology with the mode of "joint medical theory, vertical and horizontal discussion".Six departments of Neurosurgery, orthopedics, cardiothoracic surgery, general surgery, hepatobiliary surgery and urology department of the first people's hospital will be invited to carry out the online broadcast of 12 operations. Through this "cloud connection" live broadcast mode, an exchange platform will be built to exchange skills and experience in various fields, focus on medical development and share the latest technology.
Tang Youjia, vice president of the Party committee of the first municipal people's Hospital: we have a full schedule of surgeries, and they are mainly Level 3 and level 4 surgeries. We also hope that through this operation demonstration, we can have some academic exchanges with our brother units, so as to further promote the development of our relevant departments and better serve the people in northern Jiangxi.
This article reprints the news from Tencent
surgerycast
Shanghai Headquarter
Address: Room 201, 2121 Hongmei South Road, Minhang District, Shanghai
Tel: 400-888-5088
Email:surgerycast@qtct.com.cn
Beijing Office
Address: room 709, No.8, Qihang international phase III, No.16, Chenguang East Road, Fangshan District, Beijing
contact number:010-5123-5010 13331082638(Liu Jie)